Invisalign® in Caulfield North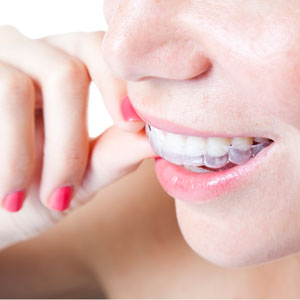 With more than 25 years of experience providing exceptional orthodontic treatment, Caulfield North Dentist Dr Brian Dyskin is delighted to be a Certified Invisalign® Provider. Using a series of clear, removable aligners, Invisalign allows patients to get a stunning, straight smile without conventional metal braces.
Invest In Your Smile
While fashions come and go, a healthy, gorgeous smile will never go out of style. With Invisalign you not only can straighten your teeth but you can enjoy a boost in confidence. Your new smile can make a lasting impression both professionally and personally. If crooked or crowded teeth have left you feeling too self-conscious to smile Invisalign can help you achieve the smile of your dreams.
It's Never Too Late to Straighten Your Teeth
Do you wish you had straightened your teeth when you were younger? One of the many benefits associated with Invisalign is a reduction in tooth decay and gum disease. That's because both are strongly linked with a misaligned bite.
Discover Invisalign's Array of Benefits
Unlike conventional braces, these clear aligners allow you to
Eat all of your favourite foods as the aligners are removable
Keep them clean easily
Straighten your teeth discreetly
Enjoy fewer, brief appointments
A Short-Term Aligner Treatment Option
Would you like to refresh your smile without a long-term commitment? With Invisalign's i7 line of clear braces, you can straighten your front teeth in as few as three months. The system involves minor tooth movement that results in straighter-looking front teeth (the only ones that are addressed). In addition to the fast treatment time, Invisalign i7 costs less than half the price of comprehensive Invisalign.
Book a Consultation Today!
If you've been looking for a practically invisible way to straighten your smile, we invite you to book a consultation today. We'll let you know if you're a candidate for Invisalign. Your dentist will provide a personalised care plan and the estimated length of treatment.

Invisalign Caulfield North | (03) 9523 9058